Revolve Fitness Club is proud to announce that we are now partnered with the Healthways SilverSneakers Fitness Program. The SilverSneakers® Fitness Program is an innovative health, exercise and wellness program helping older adults live healthy, active lifestyles.
Your SilverSneakers fitness membership includes:
Access to our basic amenities [such as 24 hour access, private showers, state-of-the-art fitness equipment, circuit training].
SilverSneakers classes and other classes we offer such as [yoga, pilates, dance, etc.]
Most important, your membership is available to you at little or no cost through your health plan.
Regular participation in SilverSneakers can help you build muscular strength, improve joint mobility and increase cardiovascular endurance, leading to improved health and greater independence.
For more information on this program please visit www.silversneakers.com or find it at www.facebook.com/silversneakers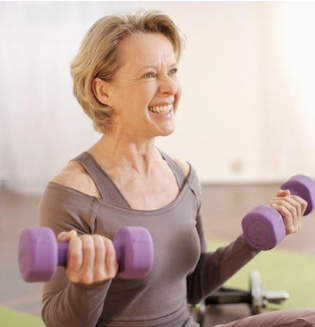 SilverSneaker Classic Class is offered every Wednesday and Friday @10:30am.
Class description:

Have fun and move to the music through a variety of exercises designed to increase muscular strength, range of movement, and activity for daily living skills. Hand-held weights, elastic tubing with handles, and a ball are offered for resistance, and a chair is used for seated and/or standing support.
Member Testimonial
"We enjoy Revolve Fitness because of the friendly staff, the modern but quaint atmosphere, and because it is convenient to our lifestyle." - Tim & Mandi Dreaden